Marshall Batteries | Car Battery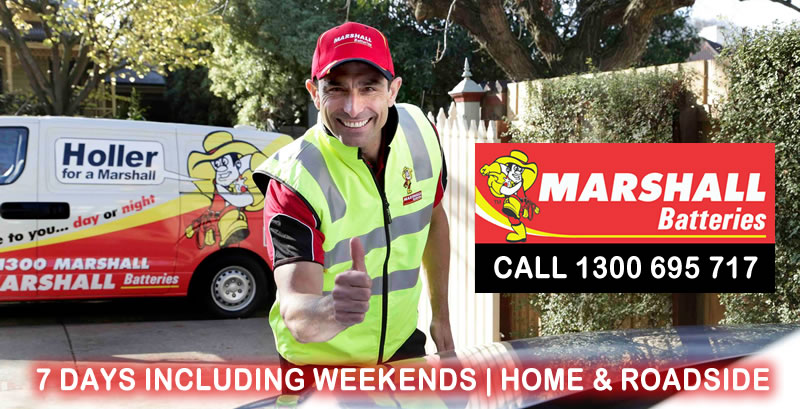 Great Value, Great Warranty, Great Service
Day or Night
1300 695 717

We come to you

No membership needed

National Warranty

Fast Roadside assistance
Holler for a Marshall and we come to you day or night

PASSENGER

SUV/4WD

LIGHT COMMERCIAL

HEAVY TRUCK

MARINE & JETSKI

MOTORBIKES

CARAVAN & SOLAR

TRACTORS & FARMING

MOWER

BUGGIES & MOBILITY

INDUSTRIAL

SECURITY & SMALL POWER
CALL 1300 695 717
"Emma was absolutely fantastic - from replacing the battery, organising the alternator to be replaced as well, escorting me down to Bentleigh Service Centre, dropping me back home & then picking me up the following day - wow what service. You need to clone her! Thank you again for sending such an angel."
Suzy Rhodes - Caulfield South
EMERGENCY ROADSIDE ASSISTANCE
Breakdown situations can occur at any time. If you get caught with a flat battery, have locked your keys in the car or your vehicle runs out of fuel, simply 'Holler for a Marshall', your trusted local emergency roadside assistance expert. Phone 1300 695 717 day or night.
Marshall Batteries has no annual membership fees or annoying roadside joining fees that make your breakdown experience even worse. Did you know that Roadside Assistance membership does not include the cost of a battery? Roadside Assistance providers charge you for the battery so don't settle for second best, choose Marshall, Australia's trusted battery specialist.
Anyone can Holler for a Marshall day or night- Our Roadside Rescue services are available in all states of Australia and we offer a nationwide roadside battery extended warranty. We are in the greater metropolitan areas of Adelaide, Brisbane, Canberra, Melbourne, Hobart, Launceston, Darwin & Sydney and right across Australia.
With no joining fee and no waiting period, its pay only when you need the service, putting you financially in front with a quality product and trusted service. Real value is a longer lasting, quality batteries designed for the rigors of Australia. We also provide Fleet Services for cost effective maintenance for your car, truck or van fleets.
Batteries are the major cause of vehicle break downs, so don't get caught out. Have a Marshall test or replace your battery today, no membership required just great products, nationwide roadside warranty and fast professional service. We have both a mobile battery service as well as battery stores right across the country.
Marshall is Australia's trusted name in batteries and has an extensive range no matter what your budget or battery type.
Visit one of our specialist battery centres or contact our expert team for emergency mobile car battery replacement and we will come to you fast. We offer car battery installation and replacements in Melbourne, car battery roadside assistance, deliver and fitment in Sydney, car batteries in Brisbane, and full car battery services in Adelaide and Perth, along with most regional Australian areas. Wherever you are located, we come to you day or night for Battery Roadside Assistance.
We also have battery stores across the country.
Our local store teams are your battery experts and provide you with the very best advice on the complete Marshall Battery range, with sound advice and the ultimate battery solution
Our battery shops have a full range of batteries to suit all applications, including premium, spill proof, Deep Cycle Caravan Batteries, Marine & Boat Batteries, Camper Trailer Batteries, Golf Cart batteries, stop/start car batteries, NBN batteries and even a mower battery.
We are a full battery specialist stores with battery management systems, battery cables, battery terminals, tie-downs, battery boxes, fuses, car and trailer accessories such as Engel car fridges and freezers, trailer locks and security products, Andersen plugs and all with specialist, local know how.
We have everything you need in battery accessories, battery chargers, invertors, dual battery kits and battery trays, 12V battery accessories and a full range of other batteries such as AAAA Batteries, Button Batteries and even power tool batteries.
Brands include Matson, Master Instruments, Piranha Off Road products and the legendary Marshall Battery range.
REPLACEMENT BATTERIES
With the best value car battery prices and legendary service since 1935, our trusted mobile car battery replacement will have you up and running again in no time. You are covered by a nationwide roadside warranty providing you and your family with peace of mind.
We can provide you more than just a car battery, we can also assist with an NBN battery, boat battery and most battery requirements.
All Marshall Batteries come with an extended nationwide warranty for added peace of mind
Marshall batteries - Holler for a Marshall
1300 695 717
❊ Web Links ❊
→
Marshall Batteries | Car Battery
→
www.marshallbatteries.com.au
→
www.facebook.com/Marshall.Batteries
Trending HOT..
---
→
Page Editor