Maddie Riewoldt's Vision | MRV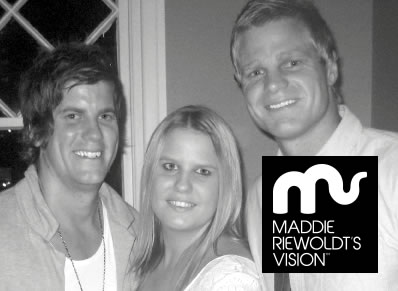 Maddie Riewoldt's Vision
Bone marrow failure syndrome
#FightLikeMaddie
Maddie Riewoldt's Vision is an initiative of the Snowdome Foundation, a registered Deductible Gift Recipient with the Australian Taxation Office. Any donations $2 and over are tax deductible.
There are no words on a page that can do justice to Madeleine Riewoldt's life.
It's almost as if she knew she wouldn't be here for long, and burned brighter because of it.
Maddie never did anything by half, and it was the simple things that gave her most joy; family, sport, friends, weekends at the beach. But with as much passion as she loved life, she hated being controlled by this Bone Marrow Failure Syndrome.
Bone marrow is an organ in the body that keeps your blood healthy; producing red and white blood cells and platelets that carry oxygen around your body and help fight disease. When you have a Bone Marrow Failure Syndrome your bone marrow stops producing and it's only through repeated blood transfusions and bone marrow transplants that people can hope to survive.
For 6 long years Maddie fought this disease bravely. Everyone around her was amazed at how she would fight and the depths of her resilience. And because of this, we always thought she would beat it.
In the end, when Maddie knew her fight was ending, she just wanted to make sure her suffering would make a difference. Maddie Riewoldt's Vision is that difference. Our organisation has been created to support the understanding of Bone Marrow Failure Syndromes and to help those suffering from the disease and continue towards our ultimate goal - finding the cure.
Maddie fought her battle with inspiring determination and courage. It's now up to us to put our heads down and lift our hearts and #FightLikeMaddie
Maddie Riewoldt's Vision has been established to help adolescents and young adults suffering from Bone Marrow Failure Syndromes through research and providing support into treatments, prevention and with an aim to finding a cure.

Donate at
mrv.org.au
or text 'Maddie' to 0437 371 371
Maddie Riewoldt's Vision
MRV has two fundraising aims: to support those suffering BMFS and their families, and to help fund new treatments.

Donate at
mrv.org.au
or text 'Maddie' to 0437 371 371
What is aplastic anaemia?
Aplastic anaemia is a rare but serious disorder. It can develop suddenly or slowly. The disorder tends to get worse over time, unless its cause is found and treated.
In many people who have aplastic anaemia, the cause is unknown.
Treatments for aplastic anaemia include blood transfusions, blood and marrow stem cell transplants, and medicines.

Donate at
mrv.org.au
or text 'Maddie' to 0437 371 371
Web Links
→
Maddie Riewoldt's Vision | MRV
→
Disclaimer
: Advertising details can change at any time. Check with the advertiser before making plans, buying tickets or proceeding.
→
Ticket Scams & Scalpers
: Protect yourself against illegal ticket sellers.
Trending HOT..
Stay Tuned | NEWSLETTER
Receive a weekly wrap straight to your inbox free every Tuesday.
Enter your email address*:
* Opt-In (Confirmation):
Mailing List Subscription
---
Advertising
Update (Edit) Page
Upgrade Page Advertising
Advertising (Home) Central